VCU Procurement Services works to promote equity in business and support a diverse local economy by fostering community and business relationships.
⟐
Diversity Spend Dashboard
The Diversity Spend Dashboard provides analytical insights of diversity spend performance at the department and Major Business Unit (MBU) level. The dashboards analyzes all direct transactions made through RealSource and the Corporate Purchasing Card Program. Vendors' supplier diversity status is either determined by their registration with the Virginia Department of Small Business and Supplier Diversity or verified by a certifying agency.
The "MBU Category" filter can be used to narrow user's searches for particular departments and sub-departments, or users may search larger unfiltered lists in either the "MBU" or "Department" filters. The "Reset Filters" button will clear all selected filters and return the view to it's default view.
Some users also find that launching the dashboard in full-screen mode provides the best display. Full-screen mode is available in the bottom right of the dashboard screen.
Find a SWaM Vendor
Procurement Services supports diversity within VCU's supply chain by strongly encouraging the use of SWaM (Small, Women, and Minority-Owned) suppliers for purchases of goods and services in the local economy. Several SWaM vendor eCatalogs are available for use and provide many of the most commonly purchased goods including office supplies, laboratory and research equipment, and software products. Departments can visit the SWaM Showcase on RealSource to find all available SWaM vendor eCatalogs.
VCU Procurement maintains a searchable database of SWaM businesses certified by the State's Department of Small Business and Supplier Diversity (SBSD). Users can search SWaM suppliers by the commodities and services they provide at https://swamsearch.procurement.vcu.edu or using the link below: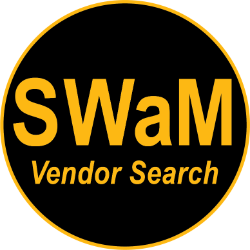 SWaM Events
VCU Procurement Services participates in trade fairs, VASCUPP's annual SWaM Expo, and other events that focus on developing business relationships between governmental agencies/institutions and diverse businesses. VCU meets with representatives of SWaM businesses to encourage certification DSBSD and to educate these firms on both VCU and VASCUPP procurement policies and procedures.

VCU Supplier Diversity Metrics and Goals
The VCU SWaM Team, in coordination with senior university leadership and the Director of Procurement Services, annually establishes university spend goals with SWaM businesses and reports performance to DSBSD and The Board of Visitors. These goals are always represented by a percentage of overall discretionary spend at VCU, and reflects Virginia's SWaM spend goal of 42%.
In fiscal year 2022, we met the Virginia state goal with SWaM certified suppliers.
VCU SWaM Spend in Fiscal year 2022

In fiscal year 2023, VCU is committed to reaching or exceeding 42% discretionary spend with DSBSD certified SWaM vendors and has established an aspirational goal of 15% with Women-Owned and Minority-Owned Businesses:
| | |
| --- | --- |
| Small Businesses | 25% |
| Minority-Owned Business | 7.5% |
| Woman-Owned Business | 7.5% |
| Micro Business | 3% |
| Service Disabled Veteran-Owned Business | 1% |
Virginia Department of Small Business and Supplier Diversity
What is DSBSD?
The mission of the Virginia Department of Small Business and Supplier Diversity (DSBSD) is to enhance growth opportunities for Virginia's small businesses to prosper through increased revenue and job creation thereby raising the standard of living for all Virginians.
What are SWaM Business?
DSBSD has the Certification Division which is responsible for the administration of Virginia's business certification programs. Its mission is to ensure only bona fide Small, Woman-owned, and Minority-owned Businesses (SWaM), Disadvantaged Business Enterprises (DBE), and Employment Services Organizations (ESO) are certified to participate in Virginia's specialized procurement and contracting opportunities. The Division has three units: SWaM Certification, DBE Certification, and Transportation Business Development Assistance.
The Division provides certifications for SWaM, DBE, ESO, and Service Disabled Veteran-owned businesses (SDV). In addition, the Division also provides specialized management and technical assistance to DBE firms participating in projects funded by the US Department of Transportation and other federal sectors.
VCU recognizes the following DSBSD Certification Types:
Service Disabled Veterans (SDV)
Employment Services Organization (ESO)
Disadvantaged Business Enterprise (DBE)
Historically Black Colleges and Universities (HBCU)
Economically Disadvantaged Woman Owned Small Business (EDWOSB)
Federal Service Disabled Veteran (FSDV)
8(a) Business Development Program
Firms can visit https://www.sbsd.virginia.gov/certification/ to review and start the certification process. Please note, the time required for review for both SWaM initial applications and for recertifications is approximately 60 business days from the time DSBSD receives a completed SWaM application and the required supporting documents.
Contact the Supplier Diversity Team
For information about supplier diversity at VCU, advice for vendors, or questions about doing business with VCU, please reach out to the Office of Procurement Services Supplier Diversity Team:
Cornelius Hunt, MBA, VCCO
Category Manager, Supplier Diversity Coordinator
Commodities: Construction, A&E, and Facilities
chunt3@vcu.edu
804-828-0663
VASCUPP
The Virginia College and University Purchasing Professionals (VASCUPP) works to identify opportunities for cooperative procurements and cost savings for higher education institutions in Virginia. VASCUPP collaborates on cooperative procurements, procurement practice, and source selection, which ultimately allow for savings through leveraged spend and reduced administrative effort. learn more at vascupp.org