Guidance
Pre-Approvals
Chrome River pre-approvals now have their own dedicated dashboards, similar to the Expense Dashboard, including My Unsubmitted Pre-Approvals and My Submitted Pre-Approvals, and will no longer be featured under New Items Available.
Please visit the dedicated page for these enhancements: http://procurement.vcu.edu/i-want-to/travel/pre-approvals
Recall (New Feature for Expense Reports)
Traveler's and assigned delegates will now be able to recall a submitted expense report as long as no line items on the report have been fully approved. This means users will no longer need to contact Travel Services to have a submitted report reset. Using the Recall feature will not delete any notes on the report. The recall button can be found in the menu at the top of the My Recently Submitted Expenses grid, and will be enabled when users select an eligible report.
To Recall an expense report, click on the >>Details tab under My Submitted Expenses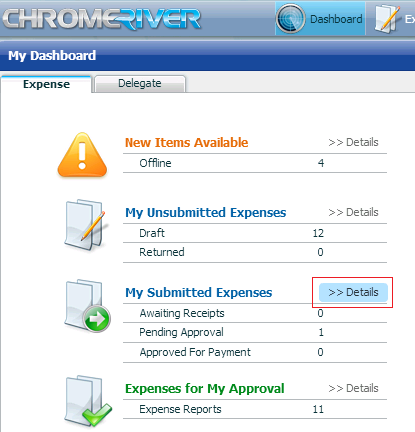 Click on the report (that no line items have been fully approved), the report will turn blue, and the Recall button will become available.

A confirmation window will appear, click Yes to reset the report.

Please note that Chrome River users who use the recall feature will detach or unlink the pre-approvals from any expense report. Disassociating pre-approvals from these types of expense reports allows users to reattach them as necessary upon re-submission.
Mileage Widget
Our new mileage widget allows employees to enter multiple destinations using the >>Distance Wizard feature, and locations entered will now appear on the Full PDF Report.
When users open the employee mileage widget, enter your date of travel, and select a rate. The Current Mileage rate will populate the correct IRS rate based on the Receipt Date.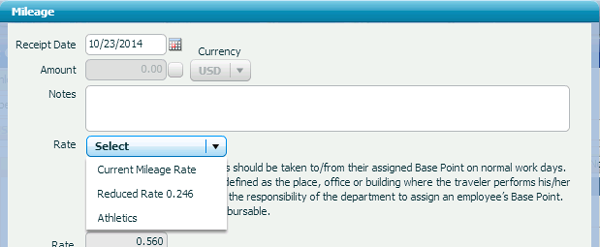 Decide whether you would like to enter a total amount of miles (ideal for departments who keep monthly mileage logs), or select the Distance Wizard to enter multiple destinations.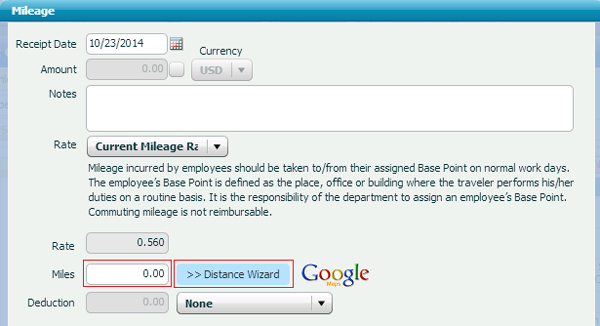 If the Distance Wizard is selected, enter your point A and point B. If additional destinations are required, click +Add Destination.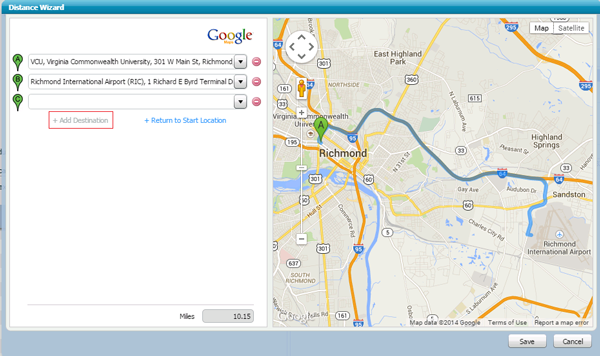 If you would like to show a Round Trip, enter your point A and B, click the +Return to Start Location (the Distance Wizard will populate point C with your original address). When you're finished entering the destinations, click Save.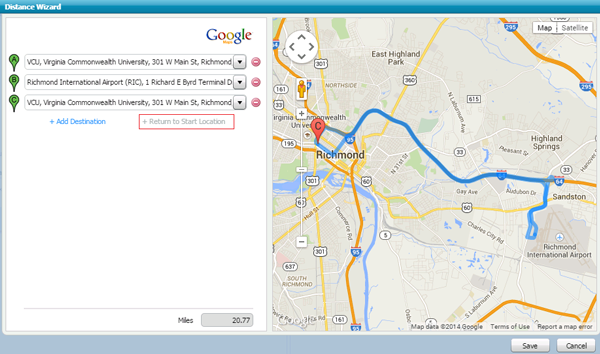 Another new feature to the mileage widget is seeing destinations entered in the Full PDF Report (either three FULL PDF reports)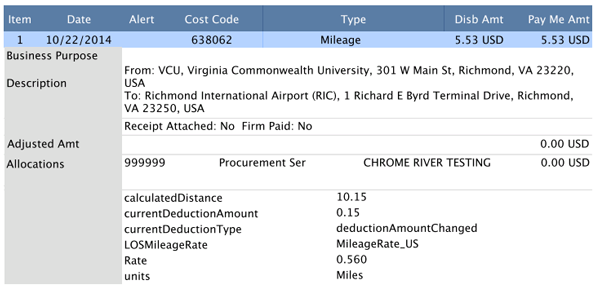 As a reminder – Business purposes are required for mileage reimbursements. If you choose to use the >>Distance Wizard, please utilize the Notes section of your expense report to state your business purpose.
If you utilize the Miles box to enter a total number of miles (ideal for mileage logs) please use the Notes box within the mileage widget to state your business purpose.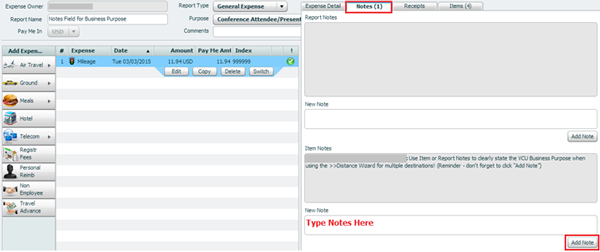 Data Feed from Christopherson to Chrome River
Travelers and assigned delegates will now be able to add Christopherson Business Travel booked Air, Rail, and Agency Fees with ease to your expense report! To do so, open a new expense report, click on the "Items" tab, and from the dropdown menu select "Travel Agency". Data that has been fed from Christopherson to Chrome River for VCU employees will be found here.
Click on the drop down menu, under the item you wish to identify in the expense report. For this example (Airfare Booking Fee) select Air Travel, then Travel Agency Fee.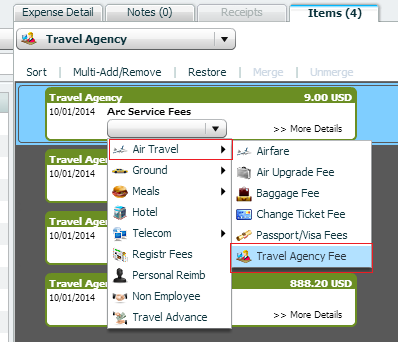 An Airfare example will follow similar rules. Click on the dropdown, select Air Travel, Select Airfare.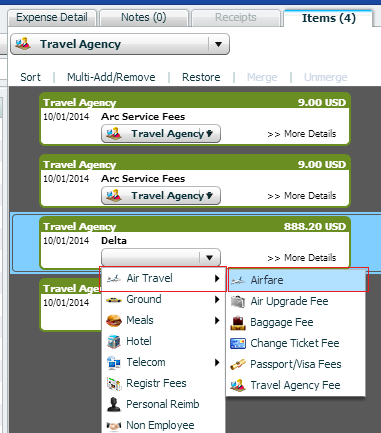 For Rail fare and fees, select Ground then Rail or Travel Agency Fee.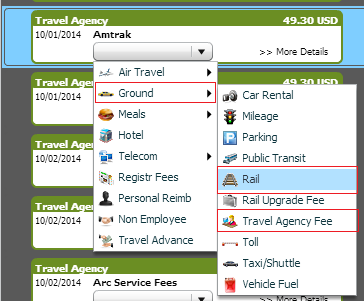 When you are ready to add the expenses to the expense report hover over the item you wish to move, and click the green plus symbol.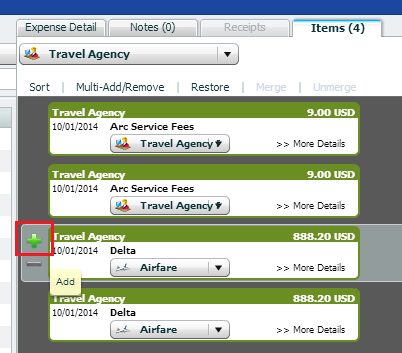 The data will be pre-populated from the information sent from Christopherson, click Save.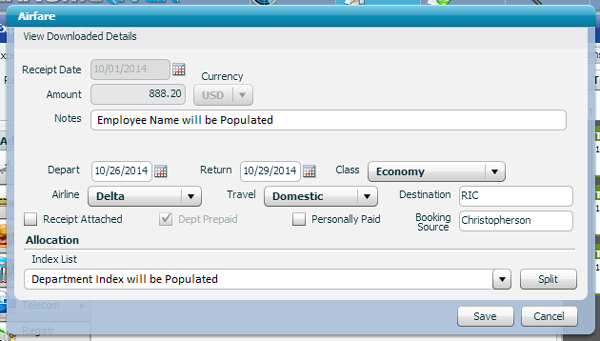 (Please Note - Christopherson to Chrome River Data feed is processed every Monday, for transactions posted the previous week.)
Business Meal - Guest Selector
In a continued effort to ensure policy compliance, users will now be entering business meal attendee information within the business meal widget. This enhancement allows users to differentiate between VCU staff/faculty/employees, and external guests.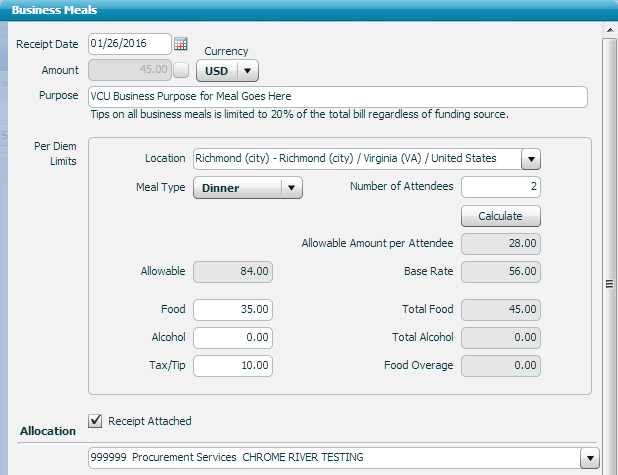 For Internal VCU employees in attendance: The Guest Type will stay "Internal" and you will type the name in the box, and Chrome River will populate the name to be selected. Then click Add. (Note: You will never have to adjust the percentage or dollar amount. This feature is not applicable, and does not impact the widget.)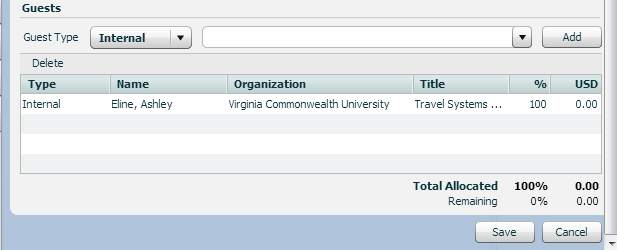 For external guests in attendance: Change the Guest Type to "External". You will then need to fill out the guests first and last name, company name and title. Then click Add.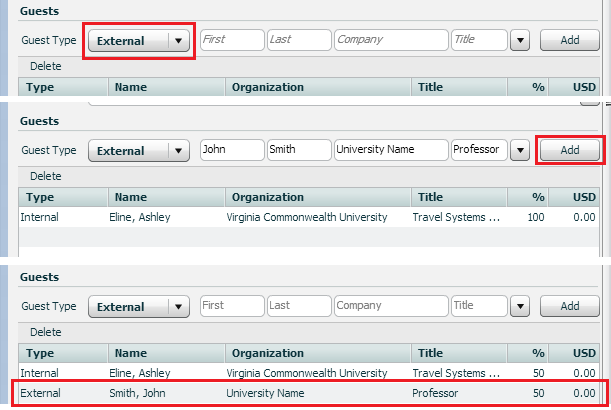 For VCU Policy information about Business Meals please visit:

https://procurement.vcu.edu/i-want-to/plan-a-business-meal/

https://procurement.vcu.edu/i-want-to/make-a-purchase/know-what-you-can-and-cannot-buy/allowable-business-expenditure-chart/
For More Information