Table of Contents
Procurement Services
Customs Clearance: Airschott
Purchases of supplies and equipment from companies located outside the United States can present unique requirements. Express carriers like FedEx and UPS will normally employ internal brokers to have items clear U.S. and another country's customs. However, often a carrier requests that you sign additional paperwork to approve their customs broker. These forms usually ask the University to sign a Power of Attorney (POA). This can prove problematic and cause significant delays.
To streamline the process of importing goods from outside the U.S., Procurement Services has contracted with a company called Airschott for customs brokerage services. Airschott is in a position to understand and address the intricacies of trade regulations and agreements. By utilizing Airschott for customs clearance, you can closely manage your international shipping needs.
How to import an item using a Customs Broker:
Prior to the issuance of a Purchase Order (PO) for the goods, Procurement Services advises that the Department process a second requisition to the Broker of Choice (e.g., Airschott) for an estimated amount of $500, knowing that the PO will be amended (via a change request) to cover the actual total of the invoice.
Once the PO for the goods is approved and sent to the Seller, the Department sends a copy of the PO, the quote for the goods, and the importing questionnaire to the Broker of Choice (e.g., Airschott).
The Department notifies the seller that the Department has a preferred Broker of Choice (e.g., Airschott).
For Questions, contact melinda@airschott.com and/or purchasing@vcu.edu. If you are importing an item that is subject to one of the regulating agencies, or your import requires special attention, please contact melinda@airschott.com and/or exportctrl@vcu.edu for assistance.
---
University Sponsored Travel Tips
Now that VCU has lifted University Sponsored Travel restrictions here are 10 Tips you should know BEFORE you travel to keep you safe and informed
Visit Together.vcu.edu for VCU's most up to date travel guidelines
Know the COVID 19 guidelines for your destination -

Whether traveling Domestic or to an allowed International country, you should check the CDC, Department of State and the locale websites to get the most up to date information. CBT also created a one stop COVID-19 Information Hub to search your destination and review any travel restrictions (both Domestic and International) and local requirements.

Verify your Travel Profile in CBT is Current

Is your work and home address up to date? Be sure to include both your work phone and mobile numbers. Update or delete any new or outdated information, including passport, emergency contact and credit card information.

Check your IDs (passports, driver's license) and Travel programs (airline, hotel programs, TSA Pre-Check) to make sure they are still valid.

Plan ahead if you need to renew your license or passport as longer delays and processing times are expected due to COVID-19. Passport applications are taking up to 18 weeks from submission to delivery.
Passport status is important for some travelers. A passport is typically valid for 10 years, however nearly ALL countries now require at least a 6 month validity period in order to be admitted.
The Real ID deadline has now been extended to May 3, 2023.

Review CBT to determine if you have any Unused Tickets.

Transferable unused tickets (i.e. tickets issued in one person's name being designated for use by another person) are now offered by some airlines. A fee may be charged to do so. You can view any transferable tickets (if applicable) in CBT AirPortal. Select "Reporting" from the Main Menu, then "Unused Tickets"

VCU has a contract with Enterprise/National Rental Car Company that offers better rates. However, due to the rental car shortage, it is becoming difficult to find available cars. You may need to look outside the airport location and search the neighborhood rental locations to find a vehicle. Utilize our contract number and book as early in advance as possible in order to secure a vehicle. This can also be done through CBT.
For International Travel- Effective April 1, 2021, Cultural Insurance Services International (CISI) is the new provider of emergency medical and security evacuation services for faculty, staff and other approved travelers while traveling on an approved VCU sponsored trip. In addition, CISI offers Business Travel Medical Insurance at a discounted rate to purchase, at their own expense. Enrollment is required. Contact Safety & Risk Management at srm@vcu.edu for further guidance or visit the CISI Portal.
Review the cancellation policy of Hotel, Car Rental, Flights, Conference fees etc. If possible and fiscally reasonable, book a refundable option. Note Refundable flight options are generally much more expensive and instead offer a credit to use for the future in the event of a Cancellation. Please use prudence and necessity when determining which type of Airline ticket to purchase.
Submit your pre-approval through Chrome River. As part of the university's Duty of Care, a pre-approval is required for all Out of State/Domestic and International University sponsored travel.
If a Travel Advance is needed to help cover the cost of your trip, submit the request in ChromeRiver as soon as possible to allow full approval and payment. A Travel Advance may be submitted at any time and the pay-date for the advance may be chosen as much as 10 days before the start date of travel. Earlier the better to ensure the funds are received.
For questions, contact Travel@vcu.edu
---
P-Card Gets a New Design
Bank of America (BOA) has made design changes to our P-cards to make them more durable and secure. The card number will no longer be embossed on the front, but printed on the back along with the expiration date and CVV. In addition, expiration dates will be moved to five years out rather than the current three years.
The new card will also include the "tap to pay" function that can be used at all enabled terminals. This function is as secure as using the Chip and will still require you to enter your PIN. Cardholders are allowed to use this function, but please remember you must not add your card(s) to any Mobile Wallets
All cardholders will not automatically receive a new card. The new cards will be issued as your current card(s) expire, in instances of fraud, if a card is lost/stolen, name change, etc.
Here is a mock-up of the new card design: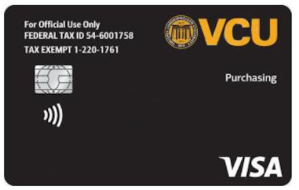 For questions, contact Corpcard@vcu.edu
---