Table of Contents
Controller's Office
Payroll Fringe Rate
Effective January 10th, the fringe rate for the following employee classes will be changed to the full-time faculty and staff rate of 40.1% since these employees have retirement and other benefits:
| Code | Description |
| --- | --- |
| C5 | Classified 50 - 74 NE |
| C6 | Classified 50 < than 74 E |
| F3 | Teaching ReschFac 12 50 |
| F4 | TR Faculty 9/10 PT E 50 < 74 |
| M3 | Clin MD Faculty 12 50-74 PT E |
| M4 | Clin MD Fac 9/10 50-74 PT E |
| O3 | Clin Other Faculty 12PT E50-74 |
| O4 | Clin Oth Fac 9/10 PT 50>74 E |
| UP | Univ and Acad Professional PT |
If you have any questions please contact payroll at payroll@vcu.edu.
---
Pre-Tax Parking
Effective December 20, 2019, the parking tax previously included in the 2017 Tax Cuts and Jobs Act was repealed. Therefore, effective with the December 25th pay period begin date, the amount employees pay for parking by payroll deduction will revert to being treated as a pre-tax deduction. The amount you pay for parking will be excluded from your taxable income on the W-2. Your federal tax withholding will likely decrease as a result. The amount of the reduction will depend upon your tax bracket.
---
Grants & Contracts Accounting
Topic Highlight: Online Training Opportunities
This month, we will be highlighting NCURA YouTube Tuesday Video "NIH Jeopardy"- Play Along With Your Team!" https://www.youtube.com/watch?v=5xzwepy1gCMp
---
Advance Index Request (Form And Work Space In RAMS-SPOT):
The University now has two ways in which the department may complete an Advance Index Request form. The Advance Index Request form can be completed via the link below or via the Work Space within the RAMS-SPOT. If using the Work Space within RAMS-SPOT, the departments will still need to print the form to obtain signatures and to route it to G&C for processing.
At this time, the workspace in RAMS-SPOT does not automatically route the form due to signature needs. Within RAMS-SPOT, the "Notification" tab will also display all of the individuals and/or areas who were recipients of the notice (if generated)
G&C would be happy to create the index using the form generated by either method chosen by the department. Completed forms should be routed to the gcavcu@vcu.edu email address for processing.
We appreciate your understanding and patience with the various ways in which this process can be completed.
Advance Index Request link: https://controller.vcu.edu/media/controller/uco-pdfs/pdfs/GCBannerNumberRequest.pdf
---
Upcoming Effort Reporting Certification Periods
The Quarterly Effort Period 9/10/19 - 12/9/19 will open for certification on January 15, 2020.
The Fall Semester Effort Period 8/10/19-12/24/19 will open for certification on January 22, 2020.
The Semiannual Effort Period 6/10/19 - 12/9/19 will open for certification on February 22, 2020.
---
Prior Effort Reporting Certification Periods
Quarterly Effort Periods, 03/10/19 - 06/09/19 and 6/10/19 - 9/9/19, currently have effort statements awaiting processing. Effort Reporting will be in contact with the appropriate parties.
The Semi-Annual Effort Periods, 06/10/18 - 12/09/18 and 12/10/18 - 6/9/19, have effort statements awaiting processing. Effort Reporting will be in contact with the appropriate parties.
The Spring and Summer Semester Effort Periods, 12/25/18 - 05/09/19 and 05/10/19 - 08/09/19 have effort statements awaiting processing. Effort Reporting will be in contact with the appropriate parties.
On behalf of Grants and Contracts Accounting and Effort Reporting, we appreciate your continued partnership and assistance. Thank you.
---
Procurement Services
So You Want to Know . . . What Is A Contract?
We know. It's the question everyone is afraid to ask. It seems like it should be an easy question to answer. But remember, entire classes are taught on what constitutes a contract. It's not always so simple.
Let's start here: Contracts are agreements between two or more parties that:
Create rights and duties for each party and
Are enforceable by a court of law.
Think: When you receive a contract, you should consider:
What are you buying?
What do you want the vendor to do for VCU?
What if an issue arises; i.e., if the vendor fails to give you what you want, what are the options to fix the problem?

Can you terminate the contract? If so, how do you terminate the contract?
Then you need to read the contract and confirm this information is contained in the terms.
So, let's consider what goes into a contract:
The names of the parties
Fees/costs
The term/length of performance
Key definitions: e.g., if there's an authorized user, the contract should define who is an authorized user
The purpose of the contract: What are you buying? What services are being provided?
The responsibilities of each party: e.g., Vendor X shall provide 300 widgets; VCU shall inspect the widgets to confirm they are acceptable within 5 days of receipt
Promises of each party: e.g., Vendor X promises the widgets will meet commercially reasonable standards
Boilerplate provisions or the legalese: e.g., Indemnity, limitation of liability, confidentiality, etc.
Signatures of authorized representatives of each party
Attachments, exhibits, statements of work
Examples: What are some examples of documents that can be contracts?
Agreements, Memoranda of Understanding, Licenses, Quotes, Purchase Orders, Non-Disclosure Agreements, Business Associate Agreements, Sponsorship Agreements, Material Transfer Agreements, Scopes of Work, Click-through Agreements
Contracts can be simple and they can be complex. Contracts give VCU the opportunity to tell the vendor what it must do and what will happen if it fails to perform as expected; contracts get everyone on the same page. This clarity can strengthen business relationships and avoid disputes.
---
Attention P-Card Users: Use RealSource To Order From E-Catalog Suppliers
The use of RealSource e-catalogs has streamlined purchasing at the university. The RealSource team has worked diligently to enable 27 e-catalogs. E-catalog orders provide efficient approvals, transparent workflow, electronic ordering, electronic invoicing, and eliminate the need for P-Card reconciliation.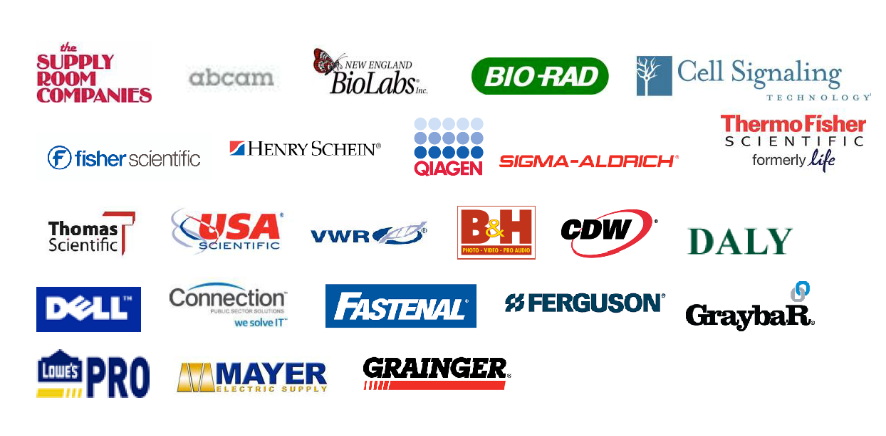 To fully realize the benefits of RealSource at VCU, purchases made with vendors who have an e-catalog must now be completed via Purchase Orders. For example, orders you currently place with Fisher Scientific, Grainger, or Dell using your P-Card must now be placed via RealSource.
We will begin monitoring P-Card transactions for compliance starting in January 2020. We recognize that you may have questions regarding the shift from P-Card to RealSource e-catalogs. We are here to support you and your department as you make this transition. Please contact University Purchasing via email at purchasing@vcu.edu or via phone at 804-828-7837 with any questions or concerns.
---
New RealSource eCatalog
Procurement Services is pleased to announce the addition of a new RealSource eCatalog with HD Supply Facilities Maintenance. It is available for use by all RealSource users, and covers a wide variety of MRO supplies (maintenance, repair and operations). The vendor's parent company, HD Supply, is a large-scale, North American, industrial distributor and publicly traded on the NASDAQ stock exchange. This brings the total count of RealSource eCatalogs to 27 with additional eCatalogs planned for release in calendar year 2020.
If you have questions about this or any other RealSource eCatalogs, and/or suggestions for additional eCatalogs, please send an email to RealSource@vcu.edu or call us at 8-1077, Option 6.
---
P-Card Storage On Mobile Devices
As of September 5, 2018, P-Cards must not be stored in cardholders' mobile devices or any type of digital wallet such as Apple Pay, Google Pay, Samsung Pay, etc. This is noted in the terms and conditions of the Corporate Purchasing Card Agreement.
If you have a P-Card saved in any mobile wallet, you must delete it immediately.
For questions regarding this policy, please contact Corpcard@vcu.edu.
---
Chrome River Updates
Travel Services went live with Chrome River's Mercury environment on December 20, 2019 and are working hard to answer questions, concerns and respond to the issues you have reported. We will be updating the welcome panel in Chrome River today with some of the changes we are currently working on and status updates as they become available. These are also provided in an auto-response when you email the travel inbox.
So that Travel Services can efficiently answer all emails, please use the link provided below to report any functionality issues you are experiencing with Chrome River. This link will also be available on the Chrome River welcome panel.
Link: https://forms.gle/goAQiQcECvy26xAF6
---
Business Meal Expenses
Users may have noticed that the business meal widget was causing compliance warnings to fire incorrectly and then not allow users to re-open the expense to edit. Chrome River has identified the cause of these errors and have updated our configuration. We will be testing this today, and hope to have the changes moved into our live environment by COB tomorrow. Please check the Chrome River welcome panel for additional updates.
---
FAQ
When completing a pre-approval, the Ground category only allows me to use the mileage wizard, how do I enter expenses such as rail, rental car, or other ground related expenses? Please use the "other" category for now. We will be requesting a change to the user interface by the end of the week, adding other ground-related travel expenses.
---
Travel Training
Travel Services will be scheduling Policy, Chrome River and CBT training as soon as possible. Questions? Contact travel@vcu.edu.
---