Table of Contents
Procurement Services
Fiscal Year-End-Close Activities Calendar
Please access the below link for a list of Fiscal Year End transaction cutoffs pertaining to Procurement Services, including invoices, POs, requisitions, receiving, contract approval, travel and personal expenses. Please make best attempts to process your transactions before the stated deadlines otherwise they may not be processed on time.
---
Receiving
Receiving is an intricate part of our payment process all year long and is especially important now as we approach year end. Receivers for purchase orders should be entered in Banner as soon as the product is received or the services are rendered; invoices will not be paid by the due date if the receiver is missing. There is a weekly automated listing of all invoices/documents that have been entered in Banner for payment as well as monthly email reminders in regards to missing receivers. Please review the notices and promptly respond.
If there are old issues included on your report, please send a detailed listing as well as the reason it should be removed to jaholcomb@vcu.edu and we will work to clean up the data.
Thank you in advance for your cooperation and attention.
---
Next Day or Expedited Payment Requests
Before submitting next day payment requests to Accounts Payable, please make sure that the receiver has been entered in Banner. This includes payments to individuals for ICA, Honorarium, and Awards and Prizes. Other types of payments affected are US Immigration and registrations. Remember if a purchase order is required for the payment, a receiver is required as well.
Thank you.
---
Missing Invoices
The missing invoices report is dual purposed. It alerts us that there are purchase orders and receivers entered but have not received an invoice from the vendor. Also, it serves the purpose of notification if maintenance is required at the department level.
Actions that may be warranted:
Promptly forward the missing invoice to Accounts Payable as soon as possible
If the invoice is not readily available request the missing invoice from the vendor and ask them to send it \"directly\" to Accounts Payable, P.O. Box 980327, Richmond, VA 23298
Make a receiving adjustment if the receiver was erroneously keyed, or
Bring the PO Line Item(s) to closure by entering a change order to zero out the purchase order if there are in fact no invoices pending
---
Encumbering Chrome River Pre-Approvals in Banner
All fully approved Chrome River Pre-Approvals create a budget encumbrance in Banner account 638066. This is done through an overnight automated feed and is visible in Banner the next business day.
This encumbrance is liquidated in full when a Chrome River expense report has the corresponding Pre-Approval selected during submission for approval. Expense reports that do not select the \"Pre-Approval\" button to select the corresponding Pre-Approval will not liquidate the Banner encumbrance and will require manual liquidation in Banner.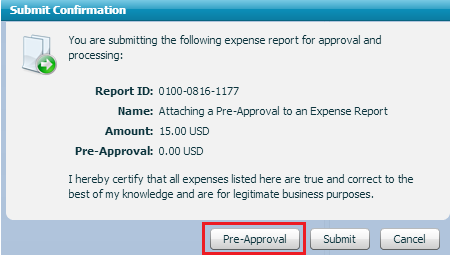 For more detailed instructions, please visit https://procurement.vcu.edu/i-want-to/travel/chrome-river-enhancements-and-new-features/#encumbering.
---
GL Allocations and Receipt Imaging Now Available in Works
Corpcard is excited to announce that GL allocations and receipt imaging are now fully available in Works.
Benefits to utilizing this new functionality include:
Ability to allocate to department indexes and expense account codes prior to transactions being loaded into Banner
Significant reduction or possible elimination of internal JV
Receipt imaging allows departments to significantly reduce reliance on paper
Provides greater transparency
If you have questions regarding this new functionality or have a problem signing off on a charge, please contact Corpcard@vcu.edu
---
New Equipment Maintenance Program
A new campus-wide contract with Specialty Underwriters (SU) is available to VCU departments for equipment maintenance. Savings of 17-35% can be realized by converting new and existing maintenance/service agreements to the SU program. And with the SU program, in most cases you can still use the same providers you currently have under contract. The program has been successfully implemented at many peer institutions, including William & Mary and Virginia Tech.
For additional information, see the Procurement website:
https://procurement.vcu.edu/our-services/university-purchasing/specialty-underwriters-equipment-maintenance-program/
---
New Office Supplies Contract – The Supply Room Company
We would like to announce that beginning in June, VCU will be starting a new mandatory university-wide contract for office supplies with The Supply Room Company (TSRC). By joining with TSRC, we will be combining our buying power with that of other large Virginia universities already on the contract, including UVa, JMU, George Mason, William & Mary, Longwood, and Mary Washington. With this tremendous combined spending volume, we are able to leverage excellent pricing and other incentives for VCU on a much greater level than before. As such, unlike in previous years, VCU will have only one office supplies contract, not two. The Supply Room catalog will be available in eVA starting June 1.
---
P-card Classroom Trainings
Seats for the May CorpCard Classroom trainings are still available!
The course will highlight Works functionality that includes Receipt Imaging and GL Allocations. It will also teach users P-card policy and take them through the online reconciliation process using the Bank of America Works tool.
The May course will be held on the Monroe Park campus.
VCU Corpcard provides two sets of trainings: one for cardholders and one for Reviewers. The Reviewer course will contain information specifically for Reviewers including tips and strategies to help you run a compliant and efficient program.
Users with both responsibilities should take the Reviewer course.
To register for the Cardholder course, please follow the link here: Cardholder Training Course
To register for the Reviewer course, please follow the link here: Reviewer Training Course
Please contact at CorpCard@vcu.edu if you have any further questions or requests.
---
Controller's Office
Year-End Processing Schedule
The year-end processing schedule has been posted to the Controller's website. It can accessed at http://www.controller.vcu.edu/finreporting/yrendschedule.pdf.
---
Two W-9 Forms on Controller's website
Please note there are two W-9 tax forms located on the Controller's website. For any vendors requesting the Commonwealth of Virginia Substitute W-9 please use the following link: https://controller.vcu.edu/CAS/w9(r).pdf
There is a place on the form for you to specify a remittance address.
For vendors requesting the federal W-9 form, please use the following link:
https://controller.vcu.edu/CAS/W9_Federal.pdf
---
Grants & Contracts Accounting/Effort Report Updates
FYI and further distribution:
GREAT NEWS! The fiscal year 2015 audit of VCU by the Auditor of Public Accounts has been published and is located at http://www.controller.vcu.edu/reports/CommonwealthOfVirginiaSingleAudit2015.pdf. There were no audit finding related to sponsored programs or grants and contracts! Give yourselves a standing ovation, and thank you for your continued efforts to minimize non-compliance at VCU!
YEAR END TIPS:
Be familiar with the Controller website "Year End Schedule"
http://www.controller.vcu.edu/finreporting/yrendschedule.pdf
Communicate with sub-recipients to submit invoices as timely as possible if needed to be paid in this fiscal year. Invoices submitted to AP after June 17 are at risk of not being paid.
BOA Procurement Card transactions – Transactions for May 14 – June 15 will be posted by June 23
Service Centers – No additional FY 16 entries after June 22
New Funds and Orgs in Banner – June 24 is the last day that new Funds and Orgs will be able to be created in Banner by the Controller Office or by G&C
PHAREDS – June 27 is the last date to process PHAREDS adjustments. Proactively reviewing Effort Statements with certifiers before a budget period or project ends is a great way to ensure accurate reporting and minimize compliance risks.
Labor encumbrances in Banner are only reflective of periods through June 9. Recalculations will take place on July 1. The Research Dashboard reflects encumbrances for active personnel through the project period.
VCU FERs – Please return forms to Accountants. Often times Banner may not reflect documentable pending salary and non-labor obligations incurred for the award year ending but not encumbered (GA Tuition, Animal Use charges, etc.) Otherwise Banner will be used to meet Sponsor Reporting deadlines.
---
Effort Reporting and ECRT Updates
New Effort Reporting Supervisor - Please welcome Juliette Highland to Grants and Contracts Accounting! Juliette will assume the Supervisor responsibilities on May 2. We look forward to her joining our team.
Your assistance is needed with the upcoming and past due effort reporting deadlines:
Quarterly certifications period 12-10-15 to 03-09-16 are due by 06-14-16
Semester certifications period 12-25-15 to 05-09-16 are due by 08-14-16
Semi-Annual certifications period 12/10/15 to 06/09/16 are due by 10-21-16
Quarterly certifications period 09-10-15 to 12-09-15 were due by 03-14-16
Semester certifications period 08-10-15 to 12-24-15 were due by 03-21-16
Semi-Annual certifications period 06/10/15 to 12/09/15 were due by 04-21-16
Remember to conduct proactive reviews (especially before grants close-out), communicate frequently with your faculty to verify the accuracy of their commitments, and to complete the processing of all ECRT cards assigned.
Other Effort Links:
ECRT URL: https://ecrtprod.asauxweb.vcu.edu/ecrt
Effort Reporting's website: http://www.controller.vcu.edu/grants/effort.htm
Helpful Tools: http://www.controller.vcu.edu/grants/ECRThelpfultools.html
FAQs: http://www.controller.vcu.edu/grants/ECRTfaq.html
Grants and Contracts Accounting/Effort Reporting extends our gratitude to you for all that you do to assist our office and to minimize non-compliance risks on sponsored programs at VCU. Please don't hesitate to contact a G&C/Effort Reporting staff member if at any time you have questions that cannot be answered by content on the Controller/G&C website.
---
Business Services
VCU Fiscal Year End Purchases at RamTech
With the VCU fiscal year end approaching, departments are encouraged to use RamTech, VCU's on-campus technology store, for all Apple® computer and accessory purchases. All departmental Dell® computer and accessory purchases must be made through the Dell Premier Page via the eVA web portal. In very limited instances, RamTech may only fulfill departmental Dell® purchases with in-store, in-stock inventory.
RamTech accepts departmental Banner index codes to facilitate chargeback transactions. Department chargeback transactions eliminate credit card fees and bank charges typically associated with P-Cards, thereby saving university fiscal resources.
By eliminating the purchase order and receiving process, RamTech provides fiscal personnel the most efficient purchasing process. RamTech also eliminates shipping expenses by providing free delivery service to the Monroe Park and MCV campuses.
The store is located on the Monroe Park Campus at 930 W. Grace Street directly behind Barnes & Noble @ VCU. Store hours are Monday-Thursday 9:00a.m.-6:00p.m., Friday 9:00a.m.-5:00p.m., closed on weekends. Departments may also shop online at ramtech.vcu.edu. As an Apple® and Dell® Authorized Campus Store, RamTech provides educational discounts.
---
RamTech Purchase and Payment:
In-Store
Visit the RamTech store on the Monroe Park Campus at 930 West Grace Street (between Harrison & Shafer Streets). Limited free parking is available in front of the store.
A RamTech sales associate will assist you in locating the Apple®/Dell® products matched to your departmental needs.
If the Apple® product you need is unavailable or out of stock please ask a sales associate about a custom order.
During checkout, provide a valid VCU ID and your department's Banner index code for payment.
Online "standard/in-stock" order
Visit ramtech.vcu.edu.
Click "Shop Our Store," then click "Department"
For standard configuration/in-stock purchases, click "Search Inventory" and search by item name or part number.
Locate the products you are looking for, add them to your cart and click "Checkout."
If the product you are searching for is unavailable or out of stock, please proceed to inquire about a custom order.
Complete the checkout process using your department's Banner index code as form of payment.
---
RamTech Contact Information:
To obtain product information and pricing available please contact the VCU Apple® Sales Representatives at RamTech.
Rudy LopezDepartmental Purchasing Liaison
RamTech at VCU
Email: lopezr@vcu.edu
Phone: (804) 828-8324
McKensie WilliamsSales Manager
RamTech at VCU
Email: mwilliams56@vcu.edu
Phone: (804) 828-8324
Rod DadzieGeneral Manager
RamTech at VCU
Email: dadziera@vcu.edu
Phone: (804) 827-0689
---